I received a wonderful email from my friend Marta of Marta Walenda asking me to join a blog tour.
The idea of the tour is that each author shares few things about themselves and about 3 other people whose creativity we find inspiring.
Not only was I touched to find out that I have inspired Marta (You can read Marta's post here), I thought this was a great opportunity to introduce you to a handful of people that inspire me – be that in person or from a distance (blog, instagram, fb).
Okay, so before I can reveal my chosen creatives, I should answer these questions….
1. What am I working on? 
Currently, I'm focusing on three main things: New summer range,  new collaboration opportunities and ACOS.
I'm really excited about summer coming and with it, some new items. While includes some Christmas items (gulp, yup, it's not that fair away!), I've been busily developing some new serving items – think large platters, plates and bowls… perfect for those summer gatherings with family and friends.
Along that vein, I'm also enjoying time spent collaborating with other makers. There's quite a few projects zipping along in the background and it's wonderful to see these projects coming together! I can't wait to show you them as they come to fruition!
And then there's the Australian Ceramics Open Studios event – August 16&17. This should be an awesome weekend with ceramic studios across the country throw open their doors and welcome you in! This is my first year actually participating in the event (after a couple years of visiting other artists) and I'll be set up with Stephanie Outridge-Field at her studio in Clayfield (link here for address). Together, we'll be demonstrating wheel-throwing, handbuilding, glazing and firing techniques and we'll have a gallery space with stock for purchase as well as some tasty treats and drinks to fuel up on. If you can, it would be great to see you there!!
2. How does my work differ from others of its genre?
Tricky question! I think that I am still emerging as a ceramic artist and I'm still deciding and developing exactly how to produce work that is different to other makers. I do work hard to develop my own glazes as I personally feel that assists in differentiating ceramic work. At the moment, I suppose that Servant Ceramics is known for our altered cups and mugs.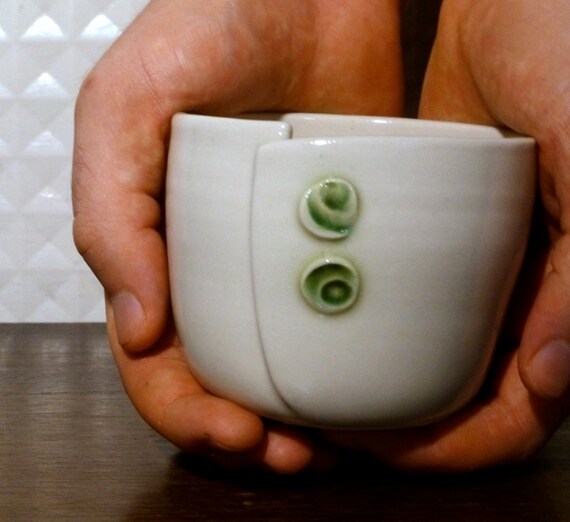 3. Why do I create what I do?
As a child, I always created birthday cards and gifts for loved ones and as I moved through my school years, I was encouraged during art classes and thoroughly loved all things creative. My high school had a strong 2D focus and at the time, there were few opportunities to work with clay but I was happily occupied with painting, drawing and printmaking. It wasn't until I took a 3D/4D class at university that I had a proper opportunity to experiment and manipulate clay. And I loved it! During my last year at uni, I had a reduced work load and I decided to enrol in a local community art centre's intro to wheel-throwing class. This was my first experience with the wheel as the uni class was heavily geared towards sculptural hand-building techniques and processes.
I remember packing up and leaving the art centre after my first morning. I felt so frustrated and completely incompetent. It was a completely different world. The terminology was new – wedging, centring, turning – and the physicality of throwing was new as well. It wasn't just about the hands, fingers or even the arms – but it was about your back, core muscles and making sure that your arms were tucked into your hips! Despite pottery being a visual art form, knowing what to feel for was a huge learning curve – by this I mean, learning by feel, rather than sight, that the clay on the centre of the wheel head.
I think it took me until week 4 to actually centre a ball of clay correctly. I still have one of those few first bowls from week 4. They are heavy, they are small but oh my, they were an absolute achievement! And I think that's why I keep making – making is an achievement. For me, I take raw materials and through a series of processes, something useful is formed. The ceramic practice has many steps and sometimes you fall (or the object falls from your hands) before the finish line but the process of working with clay immensely rewarding and fulfilling.
4. How does your creative process work?
This is going to sound a bit depressing and not at all creative but I tend to work in best in blocks. I've found that my productivity is best when I'm focused and work repetitively. For example, I write out a production schedule (custom orders, wholesale orders and stock top-up for market stalls) and work towards filling that. I might 'schedule' a play day during the middle of the production run as I do need time to create/tweak/develop new work but I find that if I plan it out, I actually see results from the day.
Once enough work is built up for the bisque firing, it's a matter of getting it to the kiln and firing the load. I normally then dedicate a day or two completely to glazing and reloading the kiln and then it does take another day to fire the stoneware glaze kiln.
I do love trolling through pinterest or having a good instagram stalk (where you see who/what your friends are liking/commenting on and following those new people) to see what other people are creating. I also enjoy looking through cookbooks/recipe sites, noting the shape, sizes and colours of the serving wares for inspiration.
Well, there we go …my fingers sure feel like they have had a workout with this post… and yet, I'm still super keen to share a couple of my favourite creatives – another potter, a jeweller and a market organiser!!
Lori Buff of Future Relics Gallery
I first discovered Lori through Mud Colony Blog and now follow her clay journey directly through her blog – a treasure-trove for all things ceramic! I feel that Lori covers a huge range of topics that matter to ceramic artists and her blog roll list has introduced me to some amazing artists. I also love her 'meatless monday' posts. Personally, I have found her to be extremely encouraging and a true champion for clay. A blog well worth following if you are interested in ceramics.
Christina Lowry of Christina Lowry Designs
I meet Christina at the Brisbane Finders Keepers market last November and have been mainly following her instagram feed but also her blog too. I've found Christina especially inspiring this past year as she welcomed her third bub Oscar into the family and adapted her business to suit her time/needs, introducing new products and dedicating time to #makemarksdaily !
Janmaree Lowe of Love Handmade
As the owner and curator of the Love Handmade markets, Janmaree has had her hands full this past year – growing the flagship market Handmade Redcliffe whilst planting Handmade Samford and spending time with her hubby and three girls. Despite serious health issues at the start of 2014, she continues to  'provide a home to emerging artists and makers' and does so with great enthusiasm and dedication.
Now I know that I was only suppose to share three of my favourites but here's two more that I love (and they don't know that I'm mentioning them)….
Adriana Christianson of Adriana Christianson
Adriana is one busy woman – between her own studio practice and teaching classes at a local community centre, she's also featuring in Domestic Frontier's first collaborative event. She was the glue that brought the Mud Colony blog together and all in all, an amazing encourager for all things handmade. She keeps it real on her blog and isn't afraid to share the good and the sad.
Matty Smith of Smith and Others
I met Matty last year though a business development course and am an big fan of his design philosophy. Together with his wife Jo-Jo, they combine to provide a unique, award-winning service to their customers and are great humans in general.
If you've got any recommendations for interesting blogs/ig/pinterest, feel free to leave a link in the comment box – it's always great to discover someone new!
With a big smile for you, Rachel.